Getting around
Public Transport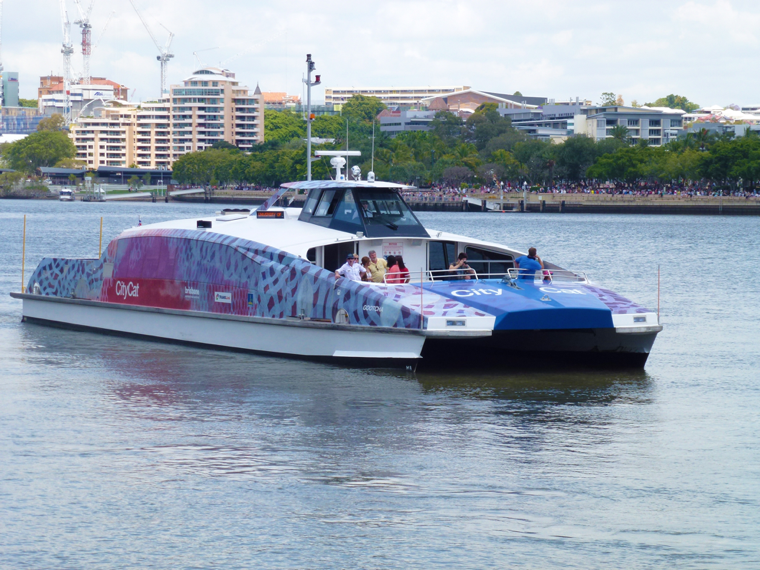 Public transport in Brisbane is reliable and efficient. Especially in the inner-city suburbs, buses, trains, and ferries run frequently during the daylight hours (less frequently at night).
You can plan your journey using the translink website, or download the "MyTransLink" app for Android and iPhone.
To use all these services, you will either need to purchase a "GoCard" or a single ticket. The GoCard can be purchased directly at:
7-Eleven stores and select retailers
Queensland Rail Station ticket offices
Fare machines at G:link and busway stations
On board Brisbane City Council CityCat and ferries
Online, or over the phone (13 12 30 within Australia, +61 7 3851 8700 outside of Australia)
You can add money to your GoCard at the above retailers, online, or over the phone.
Single tickets can be purchased on board buses and ferries and at train stations. GoCards cannot be purchased on buses.
While the GoCard requires a $10 deposit, single tickets are about 30% more expensive than GoCards, so they are well worth buying.
Public Bikes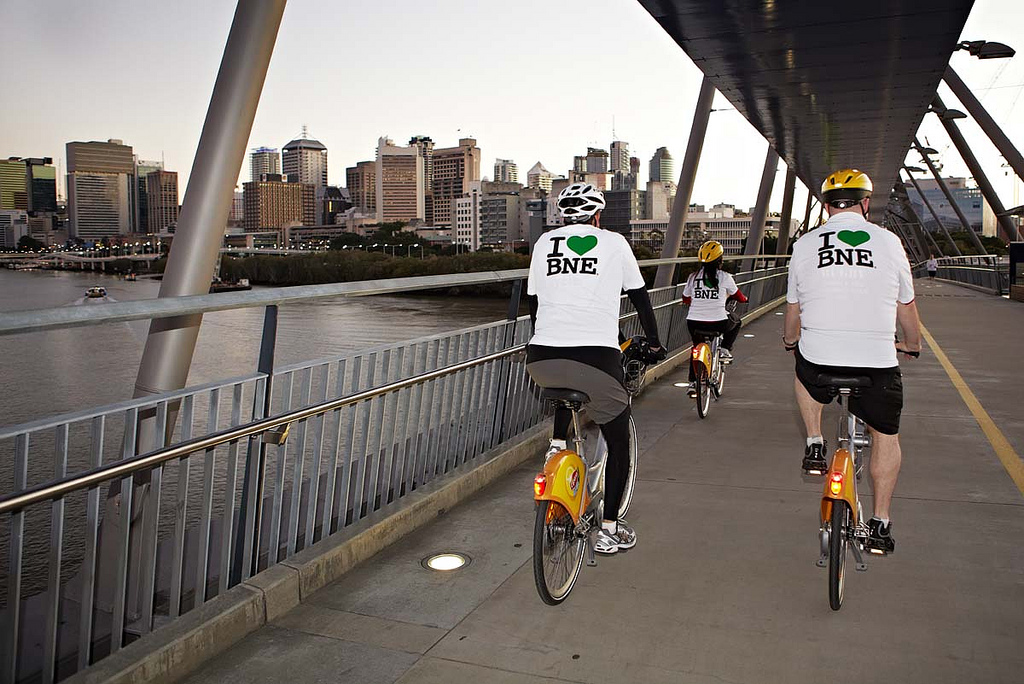 CityCycle is a convenient option to get around Brisbane's inner suburbs cheaply. For $2 per day, you can purchase a "casual pass," and for $5 you can buy a recurring monthly membership. Both allow you an unlimited number of free 30-minute trips - you just need to return the bike in time. After this free half-hour expires, fees become a bit expensive ($5 for every additional 30 minutes). CityCycle has 150 bike stations across Brisbane's city centre, stretching from Newstead to West End and Toowong. Note, you will need to bring your own helmet. It is compulsory to wear a helmet when cycling. You can find them at some 7-Eleven stores.
Uber, Ola, and Taxis
Taxis can be found everywhere in the city. A few companies exist:
Yellow Cabs: 13 19 24
Black and White Cabs: 13 19 24
Uber has become a very popular and affordable alternative to taxis. Most recently, another ride share, Ola, has started and is gaining traction. To use those services, you will need to install the relevant app and enter your credit/debit card details.
From the Airport
Brisbane's international and domestic airports are well connected via public or commercial transport. A taxi fare from the airport to St. Lucia is about $40-50. Public transport is much cheaper ($20): take the train to Central Station and then the bus line 412 from Roma Street Stop 138 near Ann Street. More information on this can be found here.
Accommodation
Many of the students will be staying at the College. In case you prefer an alternative, we suggest that you look at AirBnB or Booking.com. Suburbs within walking distance (up to 30 minutes) are St. Lucia, Dutton Park, Highgate Hill, and Fairfield. The following motels and hotels are nearby:
Visa
To visit Australia you will need a visa. For citizens of some countries, this is a very easy undertaking, but for others it's a little more involved and may cost money. Make sure you check early which visa you require to attend the conference here.
Money
Prices
Since Australia is a wealthy country, be prepared for its prices. Some things might be cheaper than in your home country, but more often than not, food and drinks may be more expensive. Plan for this to make sure you have sufficient funds while you are here.

Currency Exchange
In Australia, you will need to pay with Australian Dollars (AUD). While there are exchange booths at Brisbane International Airport, you might want to choose a different option since the airport can be around 10% higher than outlets in the city centre. Your other options are ordering cash from your bank at home or using your credit/debit card at bank machines in Australia. Bank machines in Australia are called ATM (Automatic Teller Machines) and you can find them everywhere, and they take any major cards. You will be able to find nine ATMs across the university.
Groceries
In Australia, the major supermarket chains are Coles or Woolworths, with smaller stores called IGA and Aldi. Convenience stores like 7-Eleven are distributed across Brisbane. The major supermarkets have a large range of groceries, from food to stationary. The smaller ones still have a good range of products, but they may not offer the specific brands you're looking for. The closest supermarket to UQ is the IGA on Hawken Drive.
Electricity
Main voltage in Australia is 230V, 50Hz. Travellers from most nations in Asia, Africa, and Europe should have appliances that work on the same mains voltage as Australia, so you will not need a voltage converter. Exceptions to this are Japan, USA, and Canada, which use 100/120V, 50/60Hz - bring a converter if you come from these countries! Click here to see what the Australian electricity plug looks like.
Weather
Being in the southern hemisphere, July is generally one of the coldest months of the year. Luckily, Brisbane is located in the subtropics, so winter is very mild. In fact, it may appear to you like summer. Generally, days get quite warm with temperatures around the low- to mid-20°C, but nights can be chilly with temperatures down to 5°C. Winter is also the dry season in Queensland, so a warm jacket or sweater may be more prudent than a rain jacket.
Animals
Australia's fauna has a reputation that it is out to kill you... that is not true! Snakes and spiders are very rare visitors, and dangerous sharks are uncommon in Queensland waters. While you are in Brisbane, the most likely place you will encounter a crocodile is at the Australia Zoo, and although possums make terrible noises, they are harmless. In fact, the most likely animal attack you will encounter in Australia is swooping birds in spring.
In the extremely unlikely event that you encounter a snake or a spider, just leave them alone. Do not try to touch them or remove them.
Emergency and safety
Brisbane city and suburbs
Police, Fire and Ambulance: 000
UQ St. Lucia
Emergency: (07) 3365 3333
Map of emergency call points: here
Campus Security: (07) 3365 1234
You may contact UQ Security for an escort on campus at night. This free service is available 24 hours a day, 7 days a week.
If you know you'll want an escort at a particular time, contact Security in advance so someone will be available for you when you're ready to go.
A few safety tips
Australia is a pretty safe country, but as anywhere in the world, please take caution at night. Please don't walk around alone after dark.
While the road rules in Australia are very similar to other western countries, it is important that you always check the road situation before crossing it. Remember to look to the right first!
Plenty of pedestrian crossings and crossing lights help you cross the road, so please use them. Only cross after you make sure that the cars are going to stop, and only cross at a green pedestrian light.
If you cycle, use the many bike lanes provided. When no bike lane is available, you can use the left side of the road.
Wear a helmet if you cycle! It is illegal not to in Brisbane and fines apply.
Swimming in the Brisbane River is not advised - there are sharks, dangerous water hazards, and numerous high-speed ferries all along the river, especially around the UQ campus.